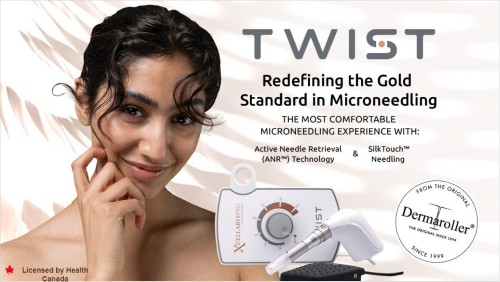 Microneedling is a minimally invasive cosmetic skin procedure that involves the use of sterilized micro needles that gently prick the skin, creating tiny holes in the top layer of the skin. The damage helps stimulate your skin's natural healing process, leading to a production in collagen and elastin. These proteins help keep the skin firm and looking smooth.
Microneedling can be done on the face, neck, legs, back, stomach or wherever there are stretch marks, scars, or skin damage.
Microneedling has both cosmetic and medical uses. You may consider microneedling if you're concerned about:
Fine lines and wrinkles
Acne scarring
Skin discolouration
Stretch marks
Enlarged pores
Sagging skin
Hair loss
Loss of skin volume
Atrophic scars
Burn scars
It is considered safe for most people who are in good health. You can experience minor redness, swelling and irritation for a few days after the procedure.
Why Choose TWIST?
Engineered with the client and practitioner in mind to offer the best microneedling device for results, comfort, and safety.
ACTIVE NEEDLE RETRIEVAL (ANR)™ TECHNOLOGY
TWIST is the only microneedling system that uses its motor to actively retrieve needles from the skin, guaranteeing maximum comfort and precision at every needle length.
SilkTouch™ NEEDLING TECHNOLOGY
Dramatically reduces the time needles spend inside the skin, thus minimizing nerve innervations and discomfort.
HIGHEST QUALITY NEEDLES
Designed for a precise treatment, every TWIST cartridge is designed to hold the optimal number of needles to prevent trauma to the skin. Made with the highest quality surgical-grade stainless steel, the needles undergo 7 different stages of production to guarantee 360⁰ symmetry.
MOST POWERFUL MOTOR ON THE MARKET
At 150 strokes per second, the TWIST delivers optimal results and eliminates reckless tearing of the skin imposed by slower devices. Even at its highest stroke frequency the needles can safely treat the toughest scars on any part of the body with ease and reduce pain and stress trauma during your treatment.
SAFEST DEVICE ON THE MARKET
Anti-flowback valves within each needle cartridge, foot-switch operation, and enhanced disinfection protocols eliminate the risk of cross-contamination and guarantee perfectly safe treatments.
CERTIFIED MEDICAL-GRADE EQUIPMENT
The TWIST is ISO 13485 and MDSAP certified, CE marked, and licensed by Health Canada as a class II medical device, meeting the highest standards for medical-grade equipment in manufacturing, materials, product sterility and more.
0 – 2.5MM ACTIVE NEEDLE HUB
Active needle length from 0 to 2.5 mm that can be adjusted in the handpiece. Each needle cartridge has 6 precisely ground needles made of surgical-grade stainless steel. All needles are sterile and single use.