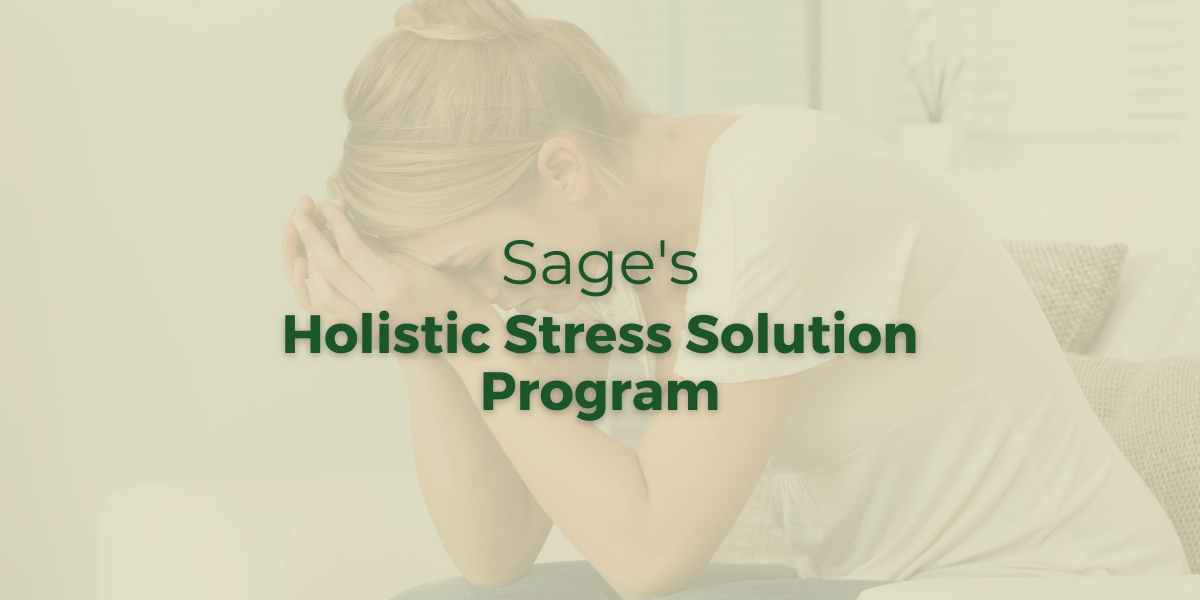 WHO IT'S FOR
The Holistic Stress Solution is for women who:
Have always been slightly anxious or stressed, but it's okay because it's a part of your ambitious nature and drive. You feel it's tied to your success – whether at work or at home?
You've noticed that it's only been getting worse over the years and you're finding your sense of overwhelm is well… overwhelming?
Exhaustion is the norm even though you're having difficulty sleeping.
You don't feel there's time to 'recharge' and can be quite hard on yourself.
Maybe hormonal complications have started like irregular or painful periods, unexplained weight changes.
WHAT IT IS
It's a 12 week online course that takes you through the ESSENTIAL tools we need to tackle chronic stress, overwhelm and feelings of anxiety. What I often saw was individuals getting all the supplements but not implementing the daily practices that TRULY change our stress response and manage overwhelm and anxiety long-term. The difficult part is actually DOING it. This is why the Holistic Stress Solution was created; to cater information specifically to women and stress in a DOABLE step-by-step way. It's also efficient; I created this with the busy woman in mind, so it fits into the chaotic schedule.
Note: 'Solution' does not imply there is a place where we feel NO stress or overwhelm. That is a part of being human. What it does imply is working with tools that we have for the rest of our lives to help us out of the chronic cycle of feeling stressed and overwhelmed.
What It Includes
STRUCTURE: 12 week step-by-step, module-by-module course facilitated through an online portal that you have lifetime access to (aka you'll get updates for the course as they happen even after the 12 weeks).

Short and sweet (no more than 12 minutes) weekly audio lessons on that week's topic
The 4 Pillars we go through:

Mindset + Neural Rewiring
Nutrition Energy Rebalancing
Nervous System Reset
Hormone Alignment

Handouts to help guide that week's topic/action task
Recipes for breakfast, lunch/dinner and snacks specifically tailored for the stressed/anxious woman
Weekly checklists for enhanced accountability
Designed SPECIFICALLY for people with periods/a uterus – this is all working within a framework of your natural hormonal cycles.
You'll get a paired with a coach to help facilitate the content to ensure your success!

COMMUNITY: During the 12 weeks, you get access to weekly HSS Support calls with a course facilitator and a group of like-minded women. There's a little meditation, share wins, discuss obstacles/questions and discuss a different topic each week relevant to the group.
ACCOUNTABILITY: One of the most important pieces to the success of ANY goal. Weekly check-ins.
INDIVIDUALIZATION: While the course consists of the essential pillars to tackle chronic stress and overwhelm, sometimes we need some unique instruction to optimize and enhance.

Globally: 3 meetings with a holistic health coach (your success coach) over the 12-week period to help identify goals, potential obstacles and a safe space for reflection to support accountability and ensure success through the course.
[No Naturopathic Services currently offered for Ontario] Ontario: 3 appointments with a licensed Naturopathic Doctor over the 12 week period to help 1) identify individual needs and 2) provide reflection and accountability *billed separately at each appointment, can claim through benefits.
if you are ready to dive right in, you can sign up today! Click here to register.