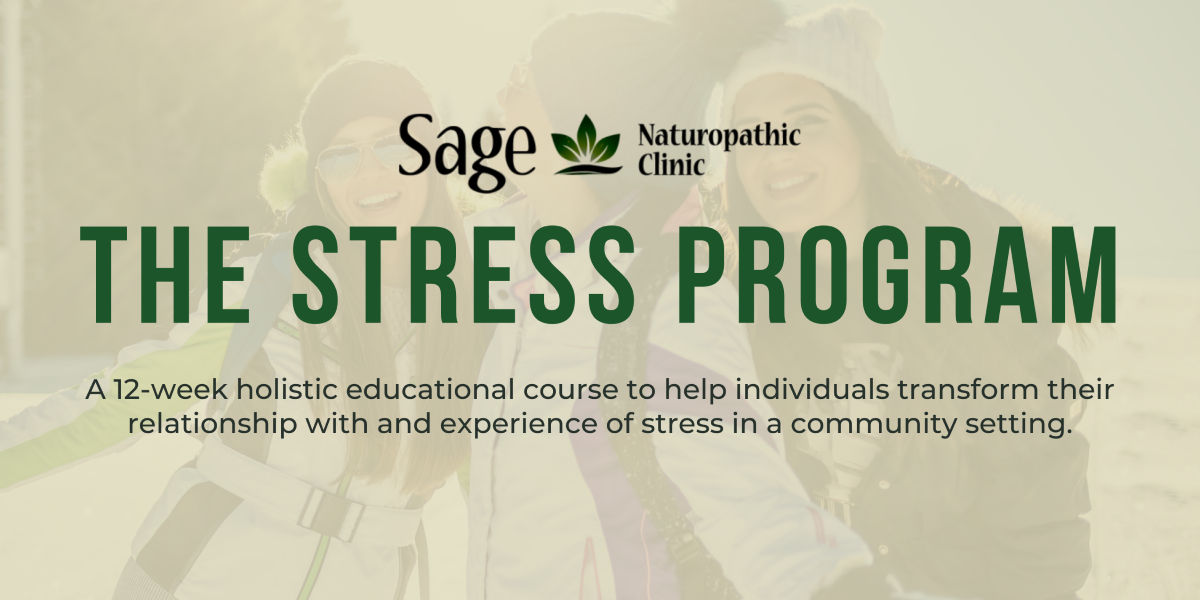 Sage is very excited to announce that enrolment is now open for a new community endeavour that is here to totally revolutionize your relationship with and response to stress. We've teamed up with Dr. Heather Robinson, ND and her signature program that helps you to methodically tackle the absolute foundations of health to truly change your body and mind respond to and experience stress. The Holistic Stress Solution is a 12-week self-paced, online program. It is designed so that there are 12 modules of short and sweet audio lessons, worksheets, handouts and recipes that are meant to be done over the course of 12 weeks. However, we know you're busy, so you can take the time you need to do this – you have lifetime access! You also get access to weekly community calls (virtually) the first 12 weeks of the course with an ND facilitator.
Who is this for? It's for people who:
Have been feeling the weight of stress and possibly anxiety affecting them.
Would like step-by-step directions on how to fundamentally change their response to stress.
Want to increase their stress resilience.
Are feeling run-down, tired and overwhelmed.
Perhaps noticing physical manifestations of stress like weight gain, period problems (hormonal issues), low energy or digestive issues.
Are ready to understand your specific stage and type of stress and how to tackle that long-term.
What are the Pillars covered in the course?
Mindset + Neural Rewiring: changing how you perceive yourself and the world around you to reduce stress.
Nutrition Energy Rebalancing: fuelling yourself specifically to reduce the stress response (this also means reducing inflammation, balancing blood sugar, balancing hormones).
Nervous System Reset: tools to turn to and routines to implement to keep your nervous system out of fight or flight and into rest and digest. We use Heart Math™ techniques which have 3 decades of evidence based techniques to support nervous system regulation.
Hormone Alignment: Leverage your hormones to work for you.
It is currently $497 for the early bird special and will be going up in February. Whether you have or haven't worked with an ND, this provides structure, accountability and really in-depth information for everyone. If you're ready to step into the healthiest and happiest version of yourself, with balanced hormones, a healthy mind and calm nervous system, you can sign up here (rolling enrollment) and will immediately get access to the course!