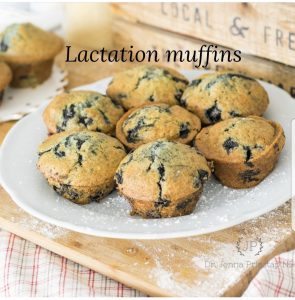 Lactation muffins are easy to make as well as something great and practical to bring to a new nursing mama (please don't go empty handed!). These are packed with nutrients to help support breastmilk production as well as replace some of the depleted nutrients from nursing. Your body will actually make the perfect breastmilk for your baby at the mother's detriment (aka take from all of your nutrient stores) so it is extremely important to ensure nursing mamas are nourished properly!
These measurements are rough as this was my go-to personal recipe and I would more so go off of consistency and ingredients on hand.
Recipe:
1 cup oat flour
1.5 cups oats (if you only have the ready-to-make packages this is about 4 packages)
2 tbsp brewers yeast
3-4 bananas
1 tsp vanilla
1 tbsp pb
1/3 cup coconut oil
2 tbsp chia + 3 tbsp water (or 2 eggs)
1 pinch baking soda
chocolate chips to your heart's desire.
Directions:
Mix everything in a big bowl.
Bake at 350 for 20 minutes then turn off the oven but keep them in it for another 10 minutes. Another way to test if they're done is to stick a toothpick in the middle and if it comes up clean then they're done!
Let cool and enjoy
Breastfeeding can be extremely hard, not only to learn at first but the amount of nutrients utilized by the mother's body is huge so supporting her/yourself is important! ⠀
Dr. Jenna Priestap, ND
Naturopathic Doctor
Sage Naturopathic Clinic