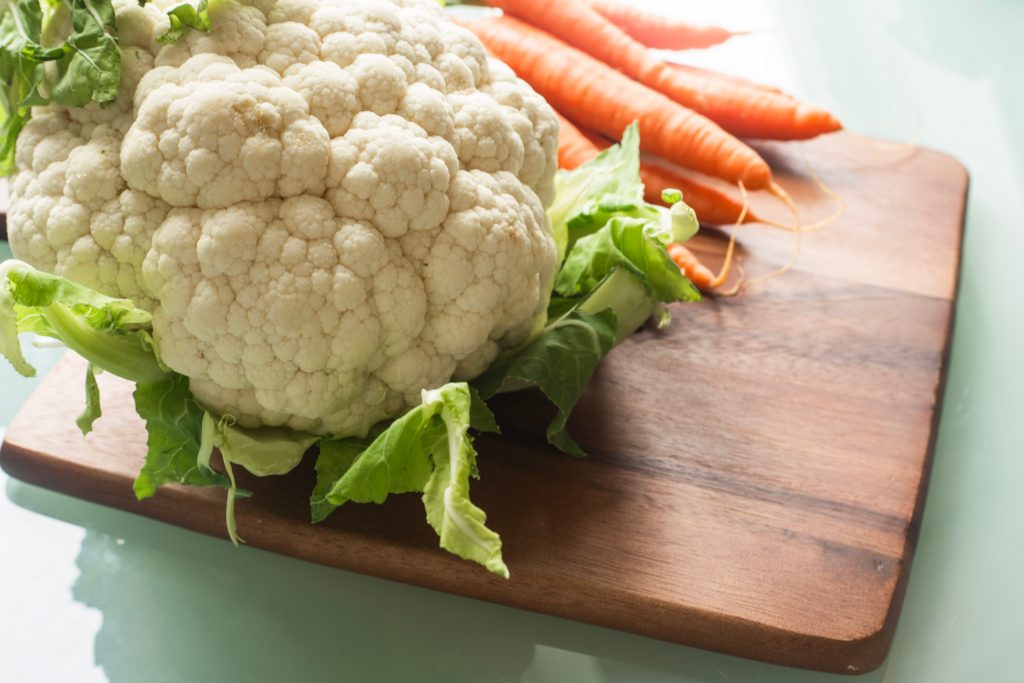 This month, we are sharing a gut-friendly grain-free recipe which provides anti-inflammatory omega-3 fats and turmeric, lean protein and valuable phytonutrients. It is also a great meal prepping recipe. After cooking, divide it into single serving containers and refrigerate for grab-n-go meals.
Ingredients for 2 servings:
2 Carrot (medium)
1/2 head Cauliflower
3 tbsps Extra Virgin Olive Oil (divided three ways)
8 ozs Chicken Breast
1 tsp Dried Thyme
1 tsp Turmeric (powder)
1/8 tsp Sea Salt
Directions:
Preheat oven to 375ºF (191ºC) and line a large baking sheet with parchment paper.
Peel and slice carrots into sticks. Wash and chop cauliflower into florets.
Brush chicken breast with 1/3 of the olive oil. Season with thyme and sea salt. Place on the baking sheet.
Toss carrot sticks in 1/3 of the olive oil. Place on the baking sheet next to chicken.
Toss cauliflower with the remaining olive oil and turmeric. Mix until cauliflower is evenly yellow then transfer to the baking sheet.
Place the baking sheet in the oven and bake for 30 minutes or until chicken breast is cooked through.
Remove baking sheet from the oven and divide onto plates. Add more salt to taste if desired. Enjoy!
Notes:
To make it low FODMAP-friendly, use zucchini instead of cauliflower.
Marianna Duba, M.Sc.
Registered Holistic Nutritionist
Sage Naturopathic Clinic